Luxury Powerboat Dealer
Why choose SBM?
The SBM Difference.
When you visit a used boat dealership that is continually selling around 3 craft a week, while others struggle to manage one sale a month, you ask yourself, what's the secret?
Could it be the proactive approach in everything we do? Securing the finest used boats for display on the marina, hand-picking the best luxury boats for sale and often passing up the less attractive options?
Perhaps it's the competitive advantage that comes with having a database of over 4000 used boat owners around Australia and the world. So we're notified of luxury boats for sale sooner, ensuring SBM customers have first pick of the best inventory.
Maybe it's the professional manner in which every used boat is displayed, something which is also less prevalent in the boating industry. The quality of photography ensuring it will be well-worth the trip to the SBM marina by those who first view a particular used boat online, while carefully detailing each boat in anticipation of your arrival.
Or perhaps having a highly experienced marine service professional on the team who can spot and rectify even minor imperfections before such annoyances become an issue for a new owner.
Is it also our flexible trade-in options, allowing owners to move up without the hassle of having to sell their used boat; something that simply isn't possible with a typical private trade.
SBM's secrets include all of the above. And of course our never ending commitment to finding you the best used boat possible, being open 7 days a week (and after hours by appointment) to make things easier for time poor customers.
So as you stroll around the SBM marina looking at luxury boats for sale, you'll sense a greater feeling of confidence, knowing SBM has grown to become one of Australia's leading luxury powerboat dealers.
BOATS FOR SALE >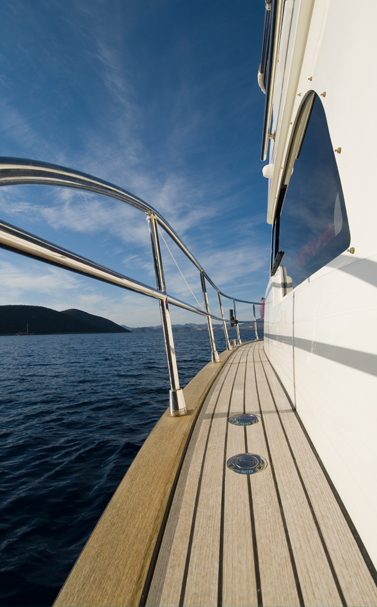 Shipping Internationally
SBM's reputation in used boat sales has spread far beyond greater Sydney, and we regularly receive long distance enquiries. So if you're coming from interstate or overseas to inspect a used boat you've seen online, call ahead and we'll pick you up from the airport, then afterwards you can discuss the deal in a harbourside restaurant at The Spit.
Thanks to established contact with specialist marine shipping companies, we can ship your craft safely to your part of the world – for truly door to door service.
Nurturing long term relationships.
Due to SBM's long time in used boat sales, our boat sales team has fostered close links with leading boat manufacturers, retailers and suppliers. These organisations all support the SBM client base if required any day, anytime – from Sydney to Qld, NZ, the Kimberleys and even Europe. SBM can support you and your boating needs no matter what, we are only a call away. Repeat business is very much part of the SBM philosophy.
Unlike other dealers, selling a boat is only part of the story. SBM thrives on the handing over and care of the used boats we sell. To ensure maximum confidence in their boat, SBM helps new owners with not only driving their new vessel in all conditions, but operating the boat's many sophisticated systems.
BOATS FOR SALE >